Provide an expert solution
Within3 is grateful for the relationships with our agency partners in helping our customers achieve their goal of successfully bringing medicines to market. In an effort to support our channel partners, Within3's Virtual Engagement Partner (VEP) program gives agencies the opportunity to have an insights management solution at their fingertips. By completing a training program and becoming a certified VEP, agency partners will sound like the expert, while still having Within3 to support them in meeting their clients' needs.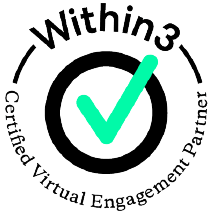 Discover how one of Within3's certified agency partners leveraged the Within3 platform successfully for their clients.
Within3 frequently collaborates with agencies for medical congresses. Use this helpful congress checklist to see ways to maximize congress events.
Within3 presents quarterly brief webinars led by experts that highlight important topics for you and your clients. Webinars include discussions like best practices in asynchronous and hybrid engagements, technical tips and tricks for hosting webcasts, and optimizing congress monitoring.
Learn how to become a VEP
Submit your email to learn more about Within3's solutions and to become a certified VEP!