Provide an expert solution
Within3 is grateful for the relationships with our agency partners in helping our customers achieve their goal of successfully bringing medicines to market. In an effort to support our channel partners, Within3's Virtual Engagement Partner (VEP) program gives agencies the opportunity to have a virtual engagement solution at their fingertips to offer their clients in brand planning. By completing a training program and becoming a certified VEP, agency partners will sound like the expert, while still having Within3 to support them in meeting their clients' needs.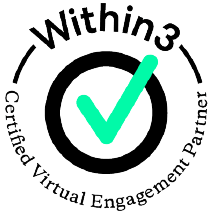 Hear what your fellow agency partners have to say about partnering with Within3 to host virtual engagements for their clients.
Review the NEXT Pharma Summit event: "Virtual Strategies for Successfully Reaching Audiences" where industry panelists discussed how life science companies will approach engagement as the industry explores when and how to resume in-person interaction in 2021.
Planning your next virtual engagement?
Book a complimentary consultation to discuss optimizing your plans. These 15-minute sessions will allow you to understand if a virtual hybrid approach would be beneficial for your client.
Become a VEP
Submit your email to learn more about Within3's solutions and to become a certified VEP!